Community Café
Families and community members visited Fultonvale Elementary Junior High on November 28 for an Open House Café Style evening to take a look at the design plans for the modernization.
Schematic design boards created by Group2 Architecture Interior Design were on display throughout the evening. The displays provided an overview of the design and development process, schematics of the proposed floorplan, and a project phasing timeline for the actual demolition, construction, and renovations.
Site Sign Unveiling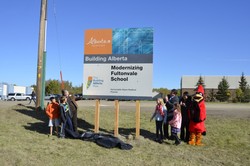 On September 27, MLA Dave Quest and representatives from Elk Island Public Schools joined together with the staff and students of Fultonvale Elementary Junior High to celebrate the site sign unveiling of our modernization project.
Construction is set to begin in May 2014 with a projected completion date of September 2016.
Read the full media advisory about the sign unveiling.
Government Announcement
On May 2, the approved capital projects within the Edmonton area were announced by the Alberta Government, and the modernization of Fultonvale Elementary Junior High is one of the approved projects. This modernization was identified as the number one initiative on Elk Island Pubic Schools' capital plan, and we are excited it was approved.
The $21 million modernization is scheduled to be complete in 2016. The exact timeline of when the work will begin and how it will impact Fultonvale students and families is still to be determined. Modernization will include a complete update and upgrade to the entire Fultonvale school building.
This modernization is separate from the addition of the modulars that will come to Fultonvale this summer. The modulars will enable the school to accommodate the increased number of students starting in the fall and the modernization will take place throughout the next couple of years.